Cookie Run: OvenBreak
4.63
Cooking Game – Help the Cookies Escape the Oven
Do you like cookies? Are you a fan of running games? If yes, then this cooking game is sure to pique your interest. Cookie Run: OvenBreak is a nice game in which you have to help a cookie and its friends escape the oven and away from the evil witch. The premise of this game is that cookies are being baked in the oven and they want to get out. You are their savior and it is your duty to guide them to safety. However, this escape won't be easy. You will find many obstacles in your way which you need to overcome by using the different skills of the cookies you collect. While running, you need to keep an eye on your energy because if it drops, the cookie will slump down in a heap.
Cookie Run: OvenBreak has eye-catching graphics and the gameplay is quite slick and fast-paced. The controls are simple enough as well and are very similar to other running games. You will find two different buttons in this cooking game. The first one is the Jump button which is located on the bottom-left corner of the screen. The second button is the Slide button which can be found on the screen's bottom-right corner. As is clear from their names, the Jump button is to be tapped for jumping over obstacles while the Slide button needs to be pressed for sliding under them. You can make higher jumps by double-tapping on the Jump button. Similarly, you can slide for longer if you press and hold the Slide button for a longer duration of time.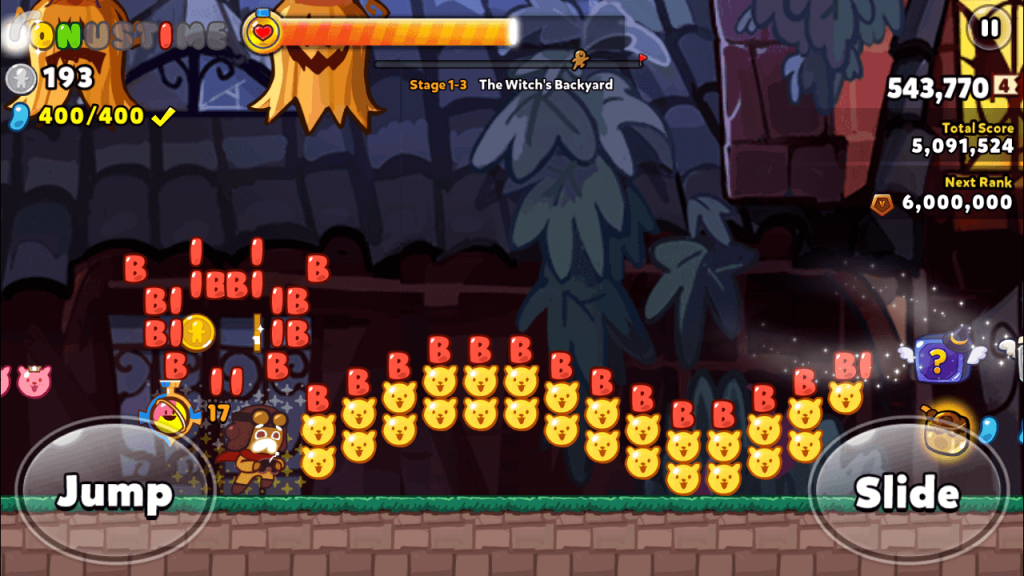 In this cookie game, you will get the chance to play a variety of game modes. Each game mode will bring a new challenge to you but the gameplay won't change much. You will have to jump and slide in each of these game modes but your targets would be different. For instance, in the Breakout Mode, you will be running a relay race with all your cookies. In the Trophy Race, you would be competing against other online players. If you are able to raise your rank high enough, you can participate in the Champions League too. You can also challenge your friends for a 1v1 race as well and find out who is better. There is an Island of Memories game mode available in this game which lets you discover the backstories of different cookies.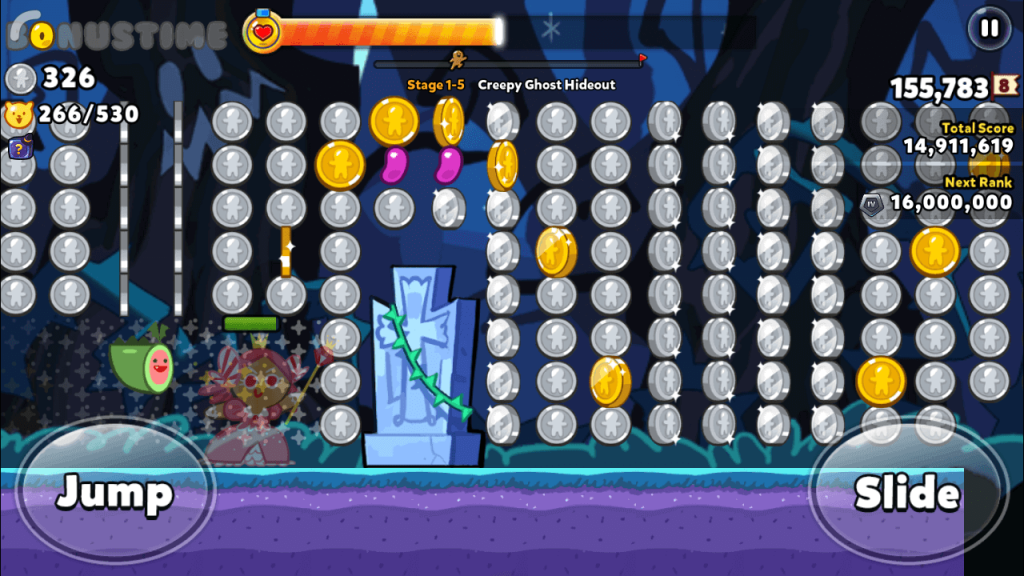 Cookie Run: OvenBreak offers an amazing variety of cookies that you can collect just by playing the different game modes. Each cookie has its own style and unique set of skills. You have the option of upgrading the cookies to enhance their respective skills and reach higher scores. Aside from the cookies, you are provided with various pets in this cooking game too. These pets can be equipped with the cookies to help them in their quest of escaping the evil witch. Just like the cookies, the pets can be upgraded as well. An upgraded cookie and pet can help you in avoiding obstacles and remaining alive for longer and thus achieving higher scores.
Features:
Multiple game modes
Run for your life in the Breakout Mode
Trophy Race for racing against other players
Participate in the Champions League
Challenge your friends to a 1v1 race
Discover the backstory of cookies in the Island of Memories
Lots of different cookies and pets to collect
Upgrade the cookies and pets to achieve higher scores
Avoid the different obstacles in your way
Jump over the obstacles to continue running
Eat all the jellies you find while escaping
Conclusion:
Cookie Run: OvenBreak is a gaming app which is aimed towards people who like playing endless running games. It enables them to play the role of a savior by helping the cookies in their bid to break out of the oven and avoid being eaten. It is a fun cooking game and is sure to keep you entertained on long trips.
---
Add a review
Tell us your experience with
Cookie Run: OvenBreak
4.63
RELATED PROGRAMS
Our Recommendations
---
---
---
---